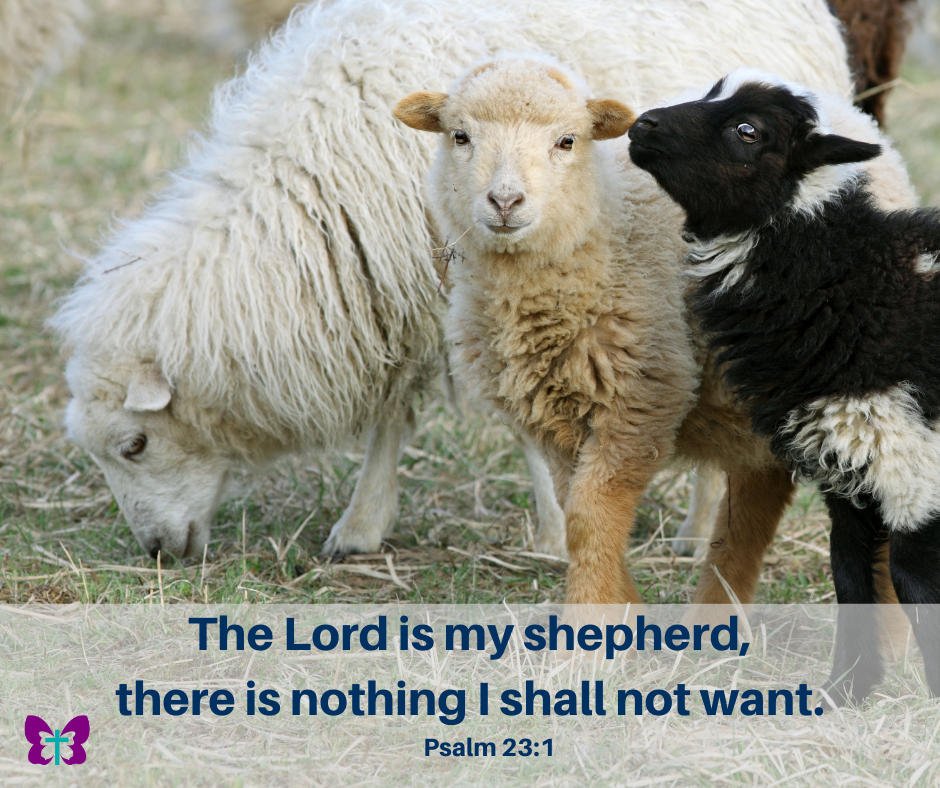 Recently, I was praying for a scripture passage which would bring me comfort. I was brought to Psalm 23! As I read, I did a study of its message. After working my way through the entire psalm, I sat for a moment, thinking of how it nourished every crevice of my being. The comfort for which I longed, was discovered in Psalm 23.
About The Author
King David is the author of Psalm 23. As a young boy, David was a shepherd; therefore, we can trust that he knew exactly what he was talking about when he wrote it. This poem begins with a to-the-point statement, utilizing a concept of which we all can easily understand, which is the relationship
between sheep and their shepherd. Throughout the bible, there are many times when the word 'shepherd' is used, describing Jesus. King David understood the reality of the sheep and shepherd relationship; and with fluent imagery, David brought his poem to life.
Relationship of Sheep to Shepherd
When we consider the relationship between sheep and their shepherd, we know that sheep blindly turn to the shepherd for guidance, protection, and nourishment (or the assurance thereof). We can see that the very first verse of this psalm brings it all together in a concise, brief statement: "The Lord is my shepherd, there is nothing I shall want."
Having It All
The rest of Psalm 23 presents all the ways we desire to have 'it all'. This is not the 'having it all' as we may think of through a worldly perspective. This poem is about 'having it all' in the areas of knowing we are protected, trusting we are being guided in the right direction, and being unconditionally loved, spiritually fed, and appropriately nurtured in living a good life.
David spent most of his young years living in the desert, taking care of his sheep. The desert environment leaves much to be desired in regards to protection from sand storms, scorching days under the hot sun, and cold nights under cloudless skies. The desert also lacks of flourishing food and water sources, leaving inhabitants to wander far in order to obtain proper nourishment. Because the desert area spans for miles and miles, there can be a sense of wandering, of being lost; a feeling of despair as the difficult landscape fights to hold us back. There can also be a sense of abandonment, as well as a fear of the unknown.
Yet, David provides us with an image of God as a provider and protector in Psalm 23:2-4:
"In green pastures he makes me lie down; to still waters he leads me; he restores my soul. He guides me along right paths for the sake of his name. Even though I walk through the valley of the shadow of death, I will fear no evil, for you are with me; your rod and your staff comfort me."
The comfort we can take from this passage is that no matter how deep in the desert we find ourselves, God will lead us to a comfortable and safe place, which is abundant with life-giving nourishment and restoration (symbolized in "green pastures" and "still waters"). In this place, we experience a peace which cannot be given to us through the world; and we are spiritually fed.
The Shepherd Leads
The shepherd leads his sheep through the desert, experiencing rough terrain and steep grades, having to choose a safe passageway to come down a mountain. Therefore, Psalm 23 tells us that God leads us to the path (passageway) we are to take, which is a path of righteousness. It is of utmost importance for the sheep to trust the shepherd; having a blind trust. The path we are lead to may be foreign to us; and therefore, God asks us to trust Him. In general, he is asking for blind trust. In my research, I discovered a video presented by IsraelU which provides some educational points on the topic of Psalm 23. I encourage you to click here to watch it.
In visualizing the rod and staff, held in the shepherd's mighty hand, we can take comfort in knowing that we do not need to fear physical, emotional, mental, or spiritual suffering (symbolized in "the valley of death" and "evil"); and we do not need to fear temptations from the enemy.
Our Cup Is Overflowing
The last two stances of Psalm 23 tells us that God is a welcoming, hospitable, and a giving provider:
"You set a table before me in front of my enemies; you anoint my head with oil; my cup overflows. Indeed, goodness and mercy will pursue me all the days of my life; I will dwell in the house of the Lord for endless days" (Psalm 23:5-6).
Our good shepherd sets a table where we will be abundantly nourished through spiritual food and drink (such as the Word of God, the sacred love of Christ, gifts of the Holy Spirit, etc.). And, he sets the table "in front of [our] enemies". We can take great comfort knowing that we have been saved in and through Jesus Christ. In the desert, the heat of the sun can represent the enemy, which strives to torment, tear down, or harrass us; and we can take comfort in the fact that God heals us with an oil (think of a balm in gilead), which provides to us comfort, healing, restoration, and salvation.
Finally, we acknowledge that our cup is overflowing with all that God has given to us, and done for us. David wrote that "goodness and mercy will pursue [us]". God is this goodness and mercy, and He does pursue us… always. He has blessed us with His undying love, mercy, and grace.
So, as sheep, we are to trust in God as He leads us through life. I encourage you to keep in mind that the life we live upon the earth includes ups and downs, hills and valleys, and the day and night. Because Adam and Eve made their choices by utilizing their God-given free will, we are not promised a life with no worries, illnesses, despair, etc. However, God did send to us His son, who won for us eternal life. All we need to do is trust and follow our good shepherd, Jesus Christ!
May God shine His light, love, mercy, grace, and peace upon you!