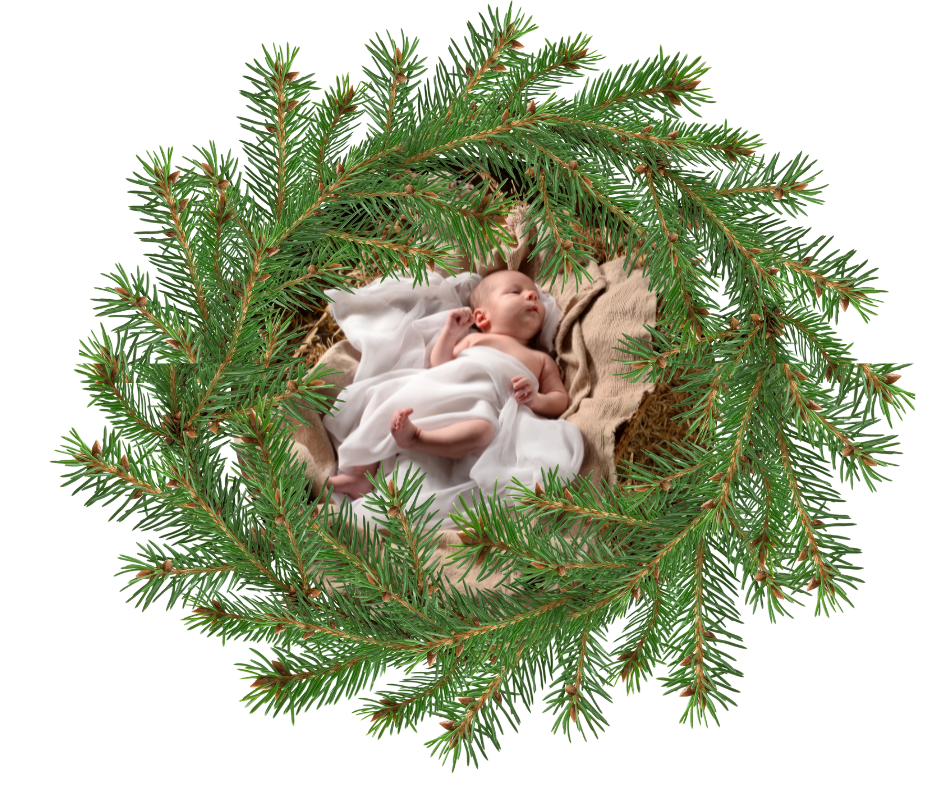 "For a Child will be born to us, a Son will be given to us" (Isaiah 9:6). Advent is a time to slow down, and prepare our hearts for the birth of Jesus Christ. Just as families anticipate the arrival of a new baby, Christians have the same anticipation as we wait for the arrival of Christmas – the day we celebrate Jesus' birth. Many Christians today prepare for Christmas through participating in an Advent devotion.
Symbols are traditionally utilized to provide a visual or hands-on tool to aid our Christian journey. Symbols can help us to better understand the season we are walking through, as well as provide us with a hands-on way to participate more fully in a devotion or rite. An Advent wreath is just that, a symbol which will provide to us hands-on value, as we walk through the Advent season.
An Advent wreath is in the form of a circle, having no beginning, nor ending. Therefore, a circular (round) wreath symbolizes God's love for His people. God's love is complete, having no beginning, nor ending. And just as the wreath has no 'stopping point', neither does God's love for us. God's love is never ending.
The wreath is traditionally made of fresh pine tree branches (evergreens). These greens represent eternal life, which we receive through Jesus Christ. Some churches and families include holly leaves, which represent the crown of thorns placed on Jesus' head prior to being led to his crucifixion; and holly berries, which represent the Precious Blood shed by Christ for us. And, finally, some include pine cones, which represent the resurrection of Jesus. When including the additional decor, the symbolism of the wreath truly brings Jesus' life full circle before us; from the anticipation of his birth, through to the gift of eternal life, which he provides to us through his death.
Four candles are placed in the greens of the wreath. The colors of the candles have symbolism, too. The current, most popular tradition is to use three violet candles and one rose candle. These colors are liturgical colors, with the violet (purple) representing a time of penance, preparatory sacrifice, and prayer; and the rose (pink) representing a time to rejoice, as we are halfway through the Advent season, and getting closer to celebrating the birth of Jesus Christ. Many people include a fifth candle, placing it in the center of the Advent Wreath. This candle is white, and represents Jesus Christ. In many churches (including Catholic, Lutheran, Presbyterian, Anglican, and other Protestant churches), this white, center candle is called the Christ candle, or Paschal candle. Other color combinations used for the candles are three blue and one rose, or all white. Of course, there may be other color combinations of which I am not familiar.
As we arrive to each new Sunday, we will review the specific symbol for the candle of that week. When utilizing an Advent wreath, whether it be in a church setting or in your private home, each week a candle is lit as a meditation and/or prayer is recited. The lighting of a candle symbolizes the light given off from Jesus Christ. On that first Christmas, Jesus entered into a broken, dark world. He continues to work in today's world, shining his light within it. Christ came into the world in order to share in our humanness, to provide God's creation with a new beginning, and to bring peace, mercy, grace, hope, faith, and love to the world.
We Christians are joyfully awaiting his coming; waiting in great hope for what this season brings into our world. May the gift of Jesus Christ illuminate your life, illuminate your spirit.
"This was the true Light that, coming into the world, enlightens every person" (John 1:9 NASB).
Preparation for an Advent Devotional:
If you have an Advent wreath, get it out of storage. If you do not have one, you may choose to purchase or make one. Although it is tradition to use fresh evergreen, it is appropriate to use artificial greenery.
Ensure you have three violet (or blue) candles, and one pink candle. It is also encouraged to have a white candle which is placed in the center of the Advent wreath.
If you have children, you may choose to get them involved with setting up the family Advent wreath. You may choose to add additional décor, such as holly leaves, holly berries, and/or pinecones. You may also dress it up a bit by adding colored ribbons which match the candles you are using. Talk about the symbols of the evergreen, the circular shape of the wreath, the color of the candles, as well as any additional décor. Refer to the information in the article above.
Set a reminder for every Sunday of Advent, with a notation to do your weekly Advent Devotion.
Set a reminder for every day of the week, with a notation to do your weekday Advent Devotion (not everyone dedicates time to the devotional on the weekdays).
Obtain or gather your Advent Devotional book, booklet, or other item containing the prayers that you will recite during your prayer time. You may also find devotionals from your church, or from online resources (such as my own FaceBook group).
I encourage you to spend intentional time in prayer during this Advent. Much more fruit can be gathered when we have a dedicated prayer time, than if we have no prayer time.
May God bless you with His mercy, grace, peace, hope, forgiveness, light and love!